Customer experience (CX) is essential and if you want to stay ahead of your competitors, you have to provide your customers with an exceptional experience. Businesses that earn $1 billion annually can expect to earn an additional $700 million within 3 years after investing in customer experience.
You have to ensure superior customer experience across all touchpoints including your call center. The way you treat customers when they contact your company is one of the cornerstones of success. As much as 44% of consumers in the US prefer phone as a customer service channel.
You need to provide customers with an exceptional experience when they call you as they're either interested in getting information about a product or they called for a complaint. You can retain an angry customer and bring a new potential customer onboard with exceptional customer experience.
A study by Microsoft found that 97% of consumers say that customer service impacts their buying decisions. Customers who are treated well turn out to be more loyal and stick with your brand.
So how can you improve cloud call center customer experience? What techniques you can use to make sure customers receive superior experience whenever they call you?
Here are the best ways to improve call center customer experience like a pro.
1. Reduce Hold Time
How do you feel when you call a company to get your problem solved and the IVR never ends? Or, when you have to hold for 10-15 minutes?
It's frustrating.
And it ruins the CX of your cloud call center.
Reducing the average hold time should be your top priority if you're interested in improving your cloud call center customer experience. Aspect conducted a survey and found that the phone is the most frustrating customer service channel. People don't prefer contacting brands via phone because they assume it to be time-wasting and frustrating.
Customers don't like getting put on hold. A study by Velaro found that as much as 60% of customers aren't willing to hold more than a minute. Over 32% of customers want brands to answer calls immediately without any hold time.

The first thing you should do to provide customers with a better experience is to reduce hold time. Here are a few best practices that you can follow:
Increase the number of agents.
Provide your agents with ample authority so they can access the system and take decisions themselves without having to transfer calls to floor manager.
Create SOPs (Standard Operating Procedures) related to call transfers and hold time duration.
Create a help center so agents can access any type of information easily, right away.
Analyze and optimize call routing and call center queues.
Train your agents.
2. Identify Customer Journey Stage
When you treat all customers equally without any personalization and without considering their current stage in your sales or support funnel, it ruins customer experience. When a call lands in your cloud call center, the agent should have all the information about the customer and the current stage in the customer journey.
You need to integrate your CRM into your call center. This is the only way to let agents identify the caller's stage in the sales funnel. This integration helps you significantly improve customer experience. The agent will know who the caller is, what stage he is in, how many times he called before, what could be his major concern, what emails he received, and so on.
The data from CRM helps with personalization and improves customer experience.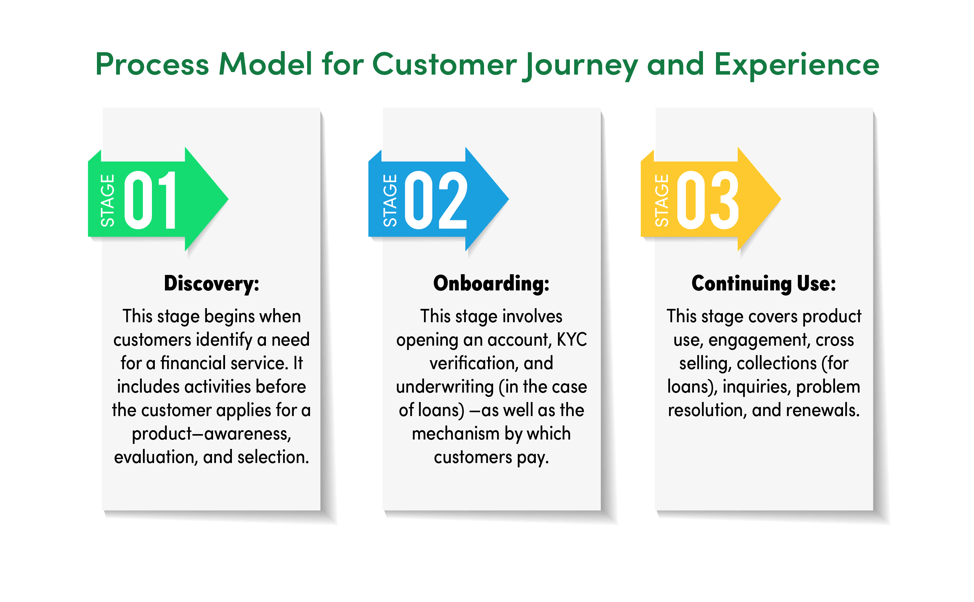 It also helps in nurturing leads, increasing sales, retaining customers, increasing repeat orders, and increasing revenue. For instance, you can treat callers in the awareness stage with an aim to convert them into customers. And those who have purchased from you needs to be tackled appropriately with an aim to convert them into repeat buyers.
This is how you'll be able to improve customer experience and customer support services. Statistics show that 60% of customers leave due to poor customer services. Integrating CRM with customer support will naturally help you improve quality and it will boost customer experience significantly.
3. Simplify the Process
How easy it is for your customers to talk to a call center agent? Do they have to go through multiple IVRs, call transfers, and queues?
The process needs to be simple. Remove barriers. Remove friction. When a customer calls you, he isn't interested in listening to an IVR – rather he is looking for a real person to talk to. This is the whole point of having a call center, right?
So the first thing you need to do is remove barriers, and let customers talk to the agent as quickly as possible. Not doing so will ruin their experience.
The entire process from start to end should be simplified since anything complex, complicated, or ambiguous will negatively impact customer experience.
Simplicity and customer experience go hand-in-hand. Research shows that 64% of consumers will pay more for simple experience and 61% will recommend a brand due to its simple use. When the customer experience is too complex, an average enterprise loses as much as $86 billion.
Yes, that's right.
Here are a few best practices that will help you make your call center simple:
Connect calls to the agent as soon as possible. Remove all barriers.
Empower and incentivize agents. Happy agents mean happy customers.
Offer call back service.
Send instructions to customers via email and text instead of telling them everything verbally.
Solve customer issues on the very first call.
Train agents to listen to customers carefully. They shouldn't repeat. They shouldn't have to explain their problem over and over again.
Conclusion
I know implementing these three techniques all at once might be challenging and costly. Let's start with the basics and the easy stuff. You can create SOPs, you can create in-house training programs for call center agents, and you can use a powerful and easy-to-use cloud call center with integrated CRM, like Infoset.
Once you start seeing results, you can implement other changes that are more complex such as hiring new agents, agent autonomy, development of knowledge-base for agents and customers, etc. At the end of the day, investment in customer experience won't let you down.
Customer experience improvement is a continuous process. It never ends. It should never end. What you need to do is track and monitor CX across all call center stages.
One great way is to collect feedback from callers towards the end of the call. Ask them what they liked and what they would change in the process. Customer feedback plays an essential role in defining customer experience strategies. It tells you what your customers want from you. You can automate and manage all these processes easily with Infoset.