The call center industry is a gigantic one that's expected to cross $407 billion in revenue by 2022. Your customers still prefer the phone as their primary customer service channel. What makes call centers special is that they provide people with an opportunity to talk to a real person.
Not having a contact center can turn out to be disastrous for your business. You don't have to necessarily have an on-premise call center, rather you could get access to a cloud call center that's much better and advanced.
Let's take a closer look at what a cloud call center is and how your business can benefit from it.
What is Cloud Call Center?
It is a cloud-based software that lets you manage calls without having the server and hardware on the premise. It's a virtual contact center that can be operated and accessed from anywhere. You don't need any physical hardware which makes it a perfect choice for businesses of all sizes. This is why 62% of businesses shifted to a cloud call center in 2017.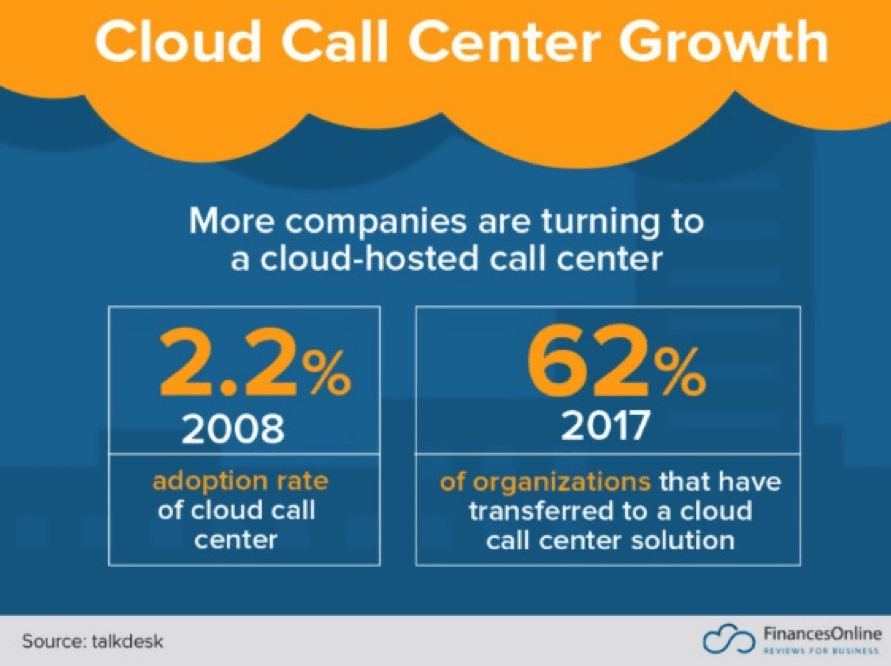 Your agents can access the call center from anywhere through the web software or mobile app. They don't have to be at their desks to callback a customer or receive calls from people. The server and all the data are managed by the service provider.
Cloud call centers are growing rapidly and it is expected to be a $93 billion market by 2022. Businesses prefer to have a cloud contact center as opposed to having a traditional on-premise contact center.
Reasons Why You Should Switch to a Cloud Call Center
So, what makes these better than their counterparts? Why does your business need one?
Here are a few major reasons that will persuade you to join the league.
1. Cost-Effective
Probably the best thing about having a cloud call center is that it is extremely cost-effective. You don't have to spend money on IT, servers, equipment, service staff, and maintenance. This is the whole point of having cloud-based services, right?
You don't have to worry about hardware and equipment. You get the software and that's all you and your contact center team need to provide exceptional customer services.
2. Easy-to-Use
It is easy-to-use and easy-to-manage. It all begins with setup and installation that's super-easy and instant. The call center agents need minimal training to get started. Supervising agents gets a whole lot easier.
The software and the system are managed by the service provider. You don't have to deal with software updates. You and your team can access your cloud call center from any internet-enabled device. As long as you have an internet connection, your call center will continue to work.
3. Scalable
One of the major issues with traditional contact center setups is that scaling them is not only an expensive task but it requires intensive infrastructure changes. Cloud call centers don't have any scalability issues.
Need more seats in your call center team? Not a big deal. Moving your office? The software moves with you. Expanding your business? Simply upgrade your plan with the service provider.
This makes it an ideal choice for businesses and startups that have diverse scalability needs.
Are You Ready for It?
Are you ready to switch to a cloud call center?
Infoset is one of the top cloud call center software providers with more than 400 happy customers. No hardware. No downloads. No maintenance. Click here to get started and build your cloud call center in minutes.