Creating and configuring your Infoset Chat Widget
Create and completely customize your Infoset Chat Widget in a few minutes.
It will only take a few minutes to create, set up, and install your chat widget to your website or web application. First, let's create and configure your Infoset chat widget.
Go to Chat > Chat Settings and click Add New on the top.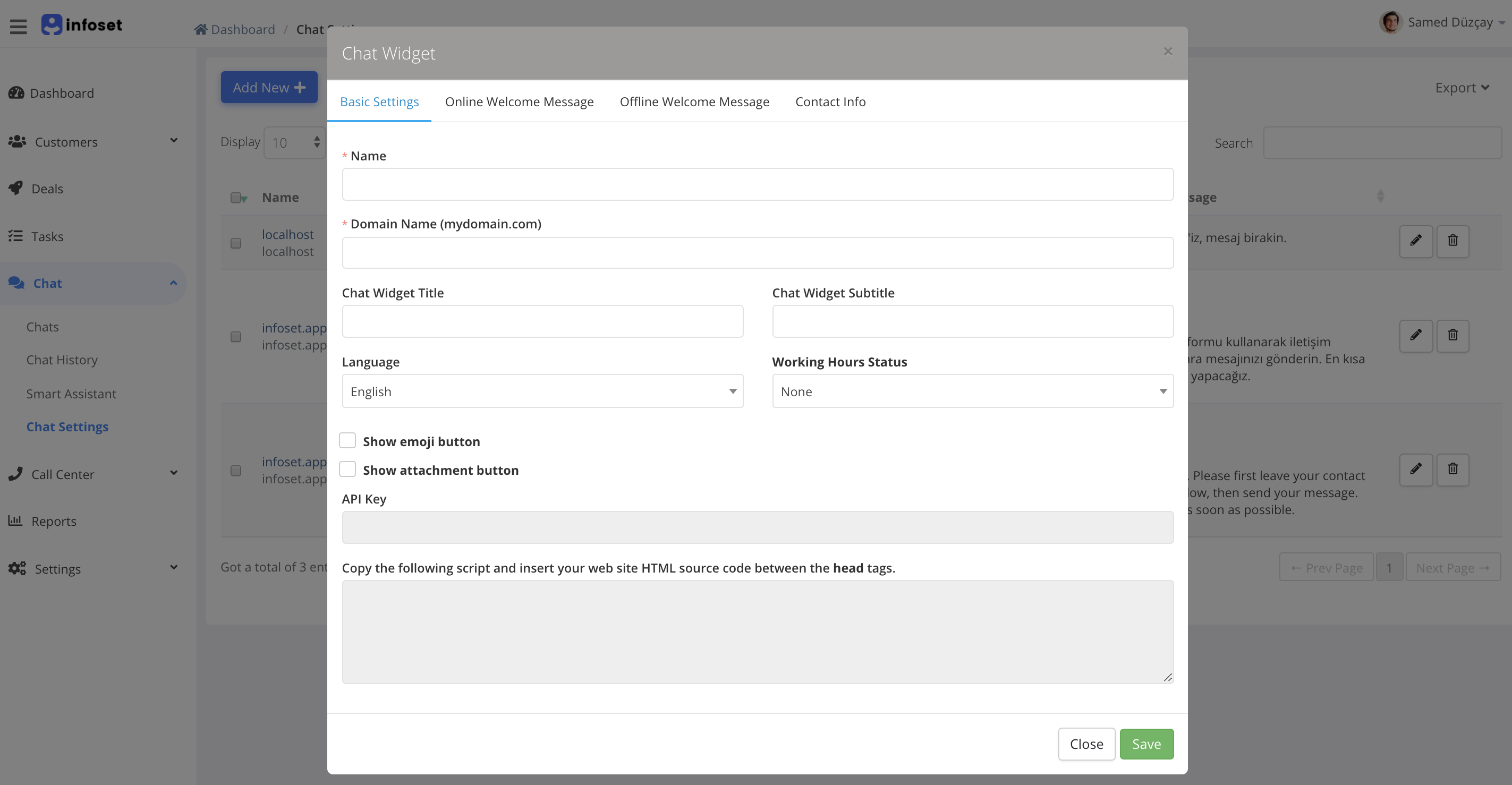 The Basic Settings tab contains most of the settings.
Name: Name of the chat widget. It's not displayed anywhere on the chat widget itself, it's only used in your dashboard for reference purposes.
Domain name: The domain that you're going to put this chat widget. You need to enter your exact domain here - if you're going to put your chat widget on a subdomain, enter that subdomain.
Chat Widget Title: Title to display on the chat widget, e.g. Live Chat.
Chat Widget Subtitle: Subtitle to display on the chat widget, e.g. We're here to help you and your business.
Language: Language of the chat widget.
Working Hours Status: We display your Offline Welcome Message when someone opens your chat widget on out of working hours. Here, you can set when you're online and ready to engage with your visitors. Here are the options you can choose from:

System working hours: Your widget will be online in your system working hours. You can change your system working hours from Settings > General Settings. Check this article to learn more.
Custom working hours: You can configure custom working hours specific to this widget. For technical reasons, we only allow you to set custom working hours after you create your widget. So, if you're going to choose this; temporarily choose something else, configure your other settings, and click Save. Then, come back and choose this from the dropdown. A Configure button will appear. Click that to configure your custom working hours.
System off-hours: Your widget will be online when your system is offline, i.e. when it's out of your system working hours.
Active when agents are active: Your widget will be online when you have active call center agents. You can ignore this setting if you're not using Infoset Cloud Call Center.

Show emoji/attachment button: Set whether the emoji and attachment buttons are visible in the chat page.
You can set the first message to be displayed to your users on the Online Welcome Message tab (see the example above for Infoset's online welcome message). Also, you can set your offline welcome message on the Offline Welcome Message tab.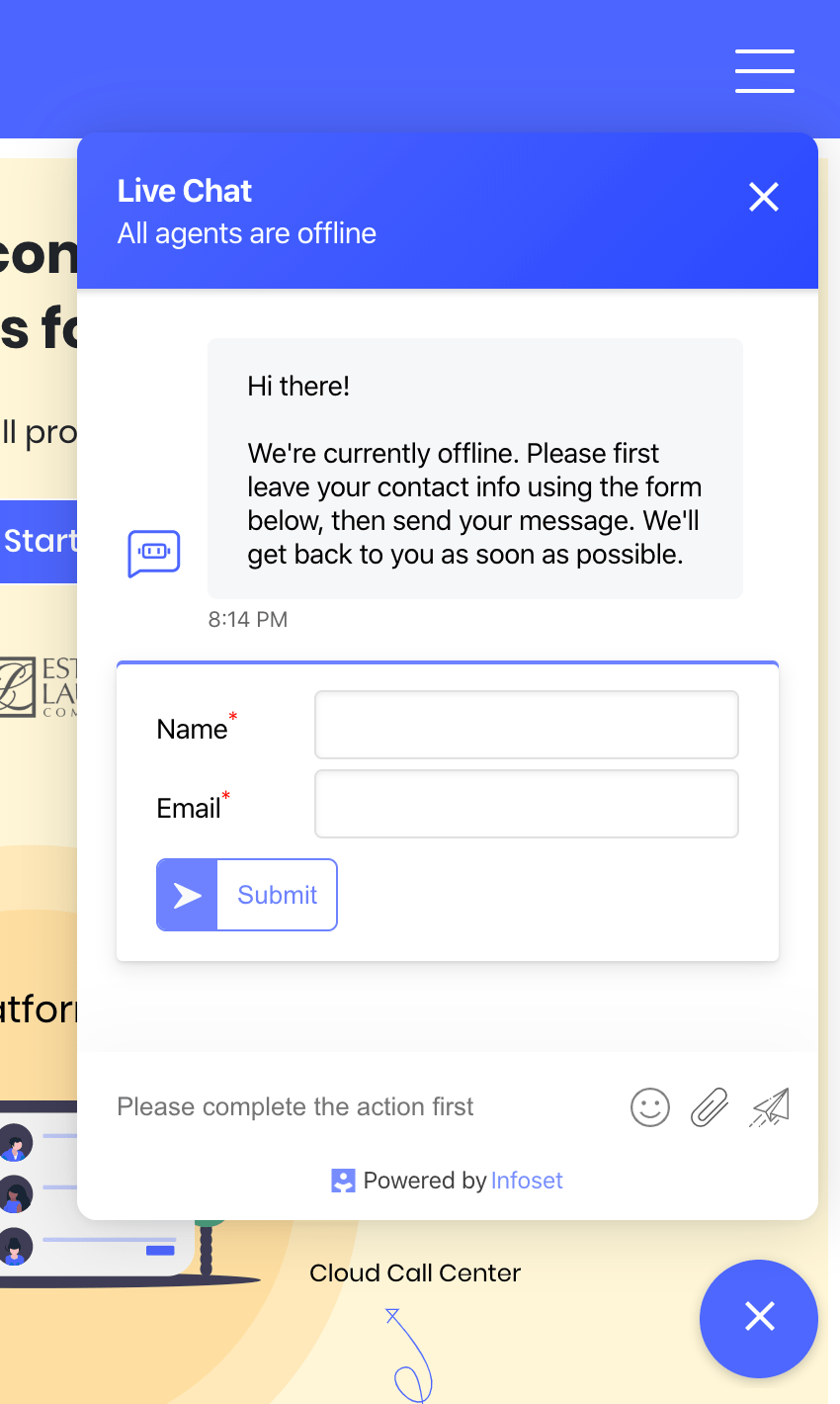 When your widget is offline, we display a form to your users to get their contact information so you can get back to them later when you're online. You can configure the fields in this form in the Contact Info tab.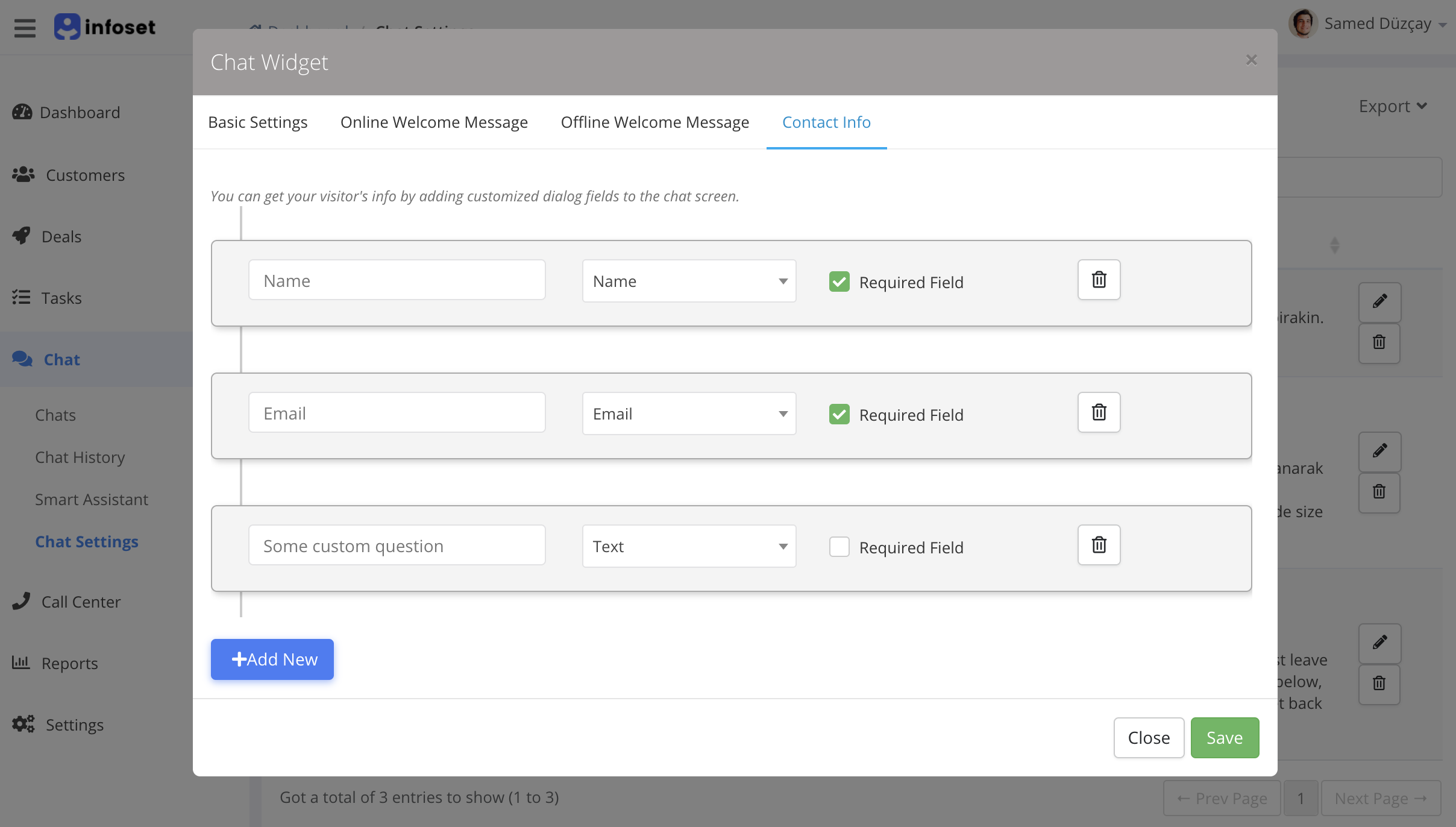 You can set the input labels and types, and mark them as required. We recommend putting only a few necessary fields here to help you reach your visitors later, but there are no limitations - you can put any number of fields and ask for any information you want.
After setting everything up, click Save to create your widget. The next step is to put your chat widget on your website or web app.
If you have any issues or questions, please contact us via live chat.